Progress occurs in many ways, but you will only know how much you have progressed if you measure it. The same applies to change management. How will you know a change management strategy is effective unless you measure the results?
It sounds straightforward, but measuring the effectiveness of a strategy takes careful planning and criteria. These need to be in place before you implement the strategy you want to measure, or you might not be comparing apples with apples. Here's how to measure change management effectiveness.


Methods of measuring.
Most change management practitioners these days are asked to measure the results of their efforts and report back on them to project sponsors and company leaders. Measurements usually include surveys, tests, assessments, and observations of the activities completed. It's also important to track the success of business outcomes. The methods managers use to measure the impact are usually a combination of quantitative and qualitative metrics. Each method offers a different perspective on the results.


Quantitative measurements.
A quantitative measurement process counts and records factors such as:
the average time it takes for people in the company to adopt the changes
the number of people who actively apply the changes in their work
the level of success employees achieve when they implement the changes
whether the change management strategy is on track to achieve the desired outcomes.

All of these can be measured by counting the numbers, which means they are accurate, neutral methods. They show hard data and statistics that can't be manipulated easily. Either people are using the new methods effectively, or they aren't. It's that simple.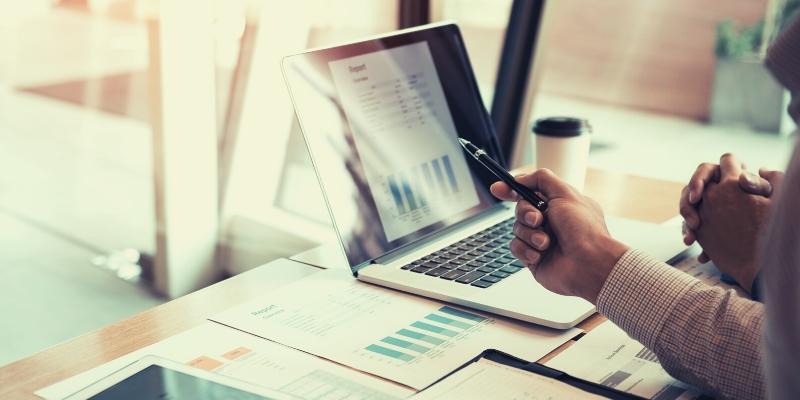 Qualitative measurements.
A qualitative result is more subjective and harder to measure. It usually involves methods like surveys, management performance reviews, and quality assessments. Measuring the people side of change is a requirement in many companies. Forty percent of respondents to a research study confirmed that they were expected to report on this component of digital projects.
To deliver on this, project management teams need to find out answers to questions such as:
How comfortable do people feel about using the new methods?
How satisfied are they with the communications they received?
Do they believe the training they got in the new methods was enough to allow them to do their work properly?
By measuring the effectiveness of your management strategy, you can find out the success rate of your efforts and whether a campaign achieved its goals.


Choosing the right change management measurement metrics.
For successful evaluation of a digital transformation, it's vital to choose the best change management metrics. These can fall into one of three categories: organisational performance, individual performance, and change management performance measures.
Organisational metrics include:
Measuring improved performance
Compliance with the project plan and time frames
Business change readiness
Measuring key performance indicators (KPIs)
Pace of implementation



Organisational performance must be considered alongside individual performance, to ensure you get an accurate result. Common methods of measuring the performance of stakeholders and employees include:
The rate at which employees understand and accept the transformation
How fast and how well the changes get successfully adopted
The engagement, buy-in, and participation levels the employees show
Feedback from employees about their satisfaction with the change management process
Reports on usage, compliance, help desk calls and support requests
Reviews based on the ADKAR model

.

This states that change starts with the people and only ends when they have moved through five stages in the journey.

Measuring change management performance means finding out whether the change management activities introduced showed positive results. Track the planned activities and their rate of success. Measure the effectiveness of training and tests, and check how many people take part in the training.
You can also measure your organisation's performance against business KPIs. Then calculate the return on investment (ROI) and identify whether the company achieved the anticipated benefits of the project.


Tools to measure change management effectiveness.
It's a tall order to expect your project team to record all the different metrics manually to use them to full advantage. Fortunately, a number of change management measurement tools and processes exist that allow you to do that accurately. Some of our favourite options are:


Balanced scorecard.
The balanced scorecard is one of the old-but-still-good management metrics. Companies use it to measure the results of performance-related activities and deliver feedback. This method compares the strategic goals of a project with periodic results.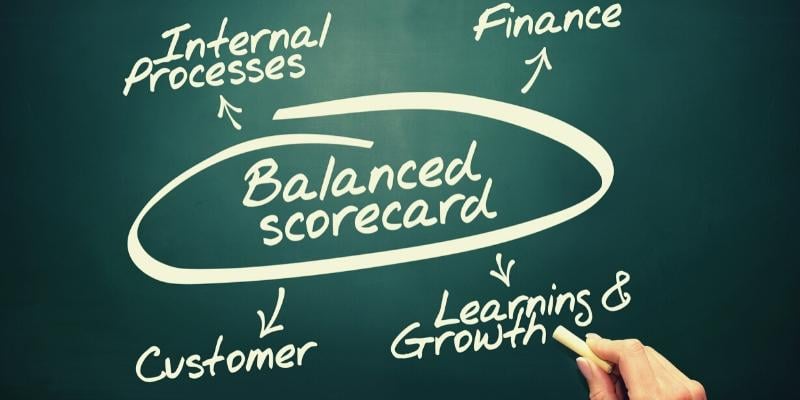 It then measures the outcomes against the original goals. The scorecard is an easy measurement tool to understand. It can be applied to a wide range of sub-projects within your digital transformation. The scorecard measures the impact in terms of four main perspectives—customer, financial, process and the human angle.


ADKAR analysis.
This is a coaching tool management practitioners use to drive organizational change. It provides a way to make sure employees involved in a project understand and support the new direction. This is an important factor in the change management process.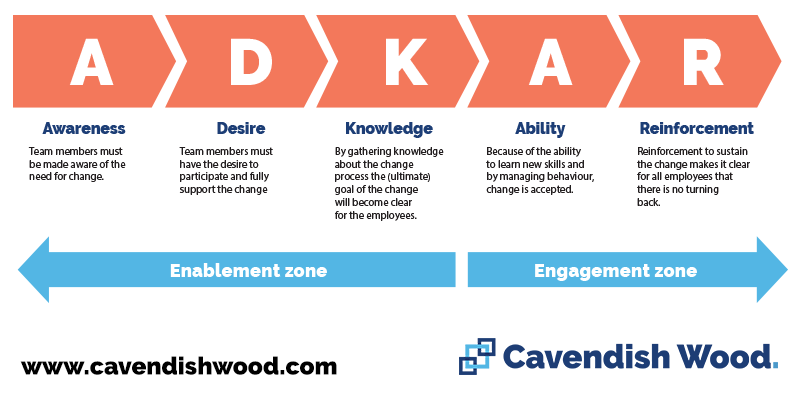 The letters stand for:
Awareness of the need for change that the project addresses
Desire to see the change take place successfully, without having to force them to comply
Knowledge in the form of training in the new methods, documentation to help support learning, and coaching to accept the process
Ability, which is enhanced and improved through feedback and ongoing evaluation of the success rate
Reinforcement of the new ways through incentives and rewards to encourage workers to maintain them.
By analysing the results of the ADKAR model, you can determine the success of the change management process in terms of employee engagement. This is part of a suite of balanced metrics against which to evaluate your overall project success.


These are useful tools for showing how the steps of a process fit together. This allows everyone in the company to understand the journey at a glance. They show what happens at each stage, and how one event affects other actions and decisions.
By creating a flowchart of the project performance, it's simple to track and record whether change management efforts are working according to plan. You can also identify where the process breaks down, and stages that need review.


Culture mapping.
Various studies over recent years show that a high number of change initiatives fail. Resistance to change is the main reason for failure, according to a study by Deloitte and MIT Sloan Management Review.
A culture mapping tool helps visualise the company's culture. Use it to discover information critical for your change initiative and to find ways to limit the risks of a project.


Statistical audit.
Conducting an audit of the various quantitative options is an excellent way to get hard numbers against which to measure your organisational success. Employees can only succeed in making changes with the support of a strong change management process, so a review of these successes will give you a good indication. Backlogged change requests or the number of incidents where new methods aren't followed shows how well employees are handling the changes.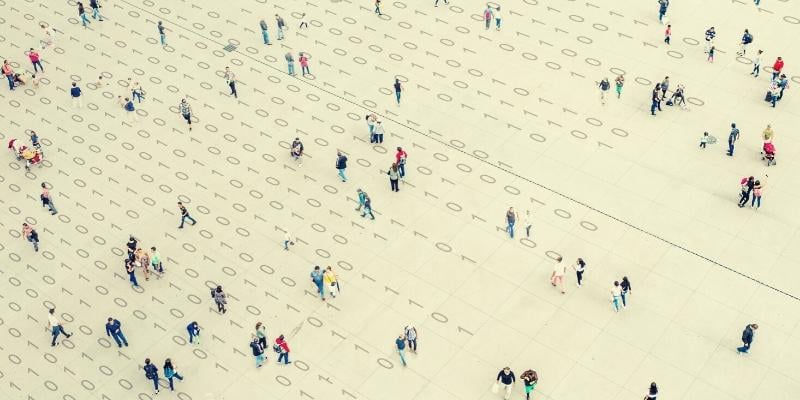 The value of data.
All these measurement tools deliver data, which is tremendously important for evaluating the success of your project. Regularly reviewing data trends shows the speed with which you're approaching the change management goals. If you don't see movement in the trends, it's a definite sign that your change management process is not as effective as you planned. Conversely, the data might show your change management campaign is working well, but your project performance has room for improvement.
Either way, it's important to measure change management KPIs independently from project success to identify where you need improvement. Don't forget, it's possible to have a very successful change management program but have declining operational performance. It's not a situation you want to see during a digital transformation project, but if it happens, you can at least re-engineer your entire project immediately to avoid further wasted effort.
Measuring change management effectiveness is a vital aspect of every project and one that a project management team can't afford to overlook. If you don't have the skills on your project team to provide this function, an independent consultant may be able to help you.